My Favorite Part of Weddings: First Looks
Right before Christmas I got to shoot a wedding that allowed me to take some of my favorite types of photos…First Look Photos! I have much love for "First Looks" and I love to talk about them and share why they are so awesome. A first look is a moment staged and set up by a wedding photographer for the bride and groom to see each other before the ceremony. It is usually at a spot at the location of your ceremony. The groom would be looking while the bride starts walking down towards him. She will tap his shoulder, and he will turn around and see his beautiful bride for the first time.
I LOVE, LOVE, LOVE First Looks for many reason but I know not everyone is aware of how great they are. And in reality, they aren't for everyone. We never will force or even try to convince a couple to do a first look. Most brides have always dreamed about walking down the aisle and the emotion that comes with her groom seeing her, at that moment, for the first time on their wedding day. I get it. That is a special moment. A first look is, however, just another version of that dreamed about special moment.
Couples can get caught up in how "un-traditional" it is and they immediately write it off. And I get that too. Everyone wants a REACTION. Brides want their grooms to be surprised and overcome with emotion when they down the aisle. And if they can get some tears from the guys, that is an added bonus! Those that are not interested in a First Look usually think that by seeing each other beforehand, they will lose part of that reaction. They also assume that it will not be as special or as intimate as it would be if the first time they saw each other was when the bride is coming down the aisle. What I have found during my years of shooting weddings is that a "First Look" can offer an even larger reaction from the groom and provide for an even more special and intimate experience than the tradition of seeing the bride the first time as she walks down the aisle. When a bride walks down the aisle, you have A LOT of people sitting there just watching you and waiting to see your reaction. This is hardly an intimate moment and can add even more stress to the situation because everyone is looking at you, waiting to see your expression and emotions. With a First Look, when the nerves start creeping up, instead of keeping the groom in a secluded space until his time to enter the ceremony…. what if you took him to a private place… no people, no on-lookers, no distractions…. and you let his beautiful bride, the love of his life, walk up to him and gently tap his shoulder. He would turn around and finally get his first look at his stunning bride and not only would he get to see her… he could embrace her… cry with her…. kiss her… and ENJOY that moment with her for as LONG as they wanted. As she shows him her dress, twirls a few times and then asks him what he thinks… his nerves start to diminish. After all, she's the one that can make him most comfortable anyway.

And there is no time crunch… they casually move into their romantic portraits. No one is around, the coordinator isn't announcing "15 minutes left", and there is no pressure. They can take their time, get all of the romantic and special pictures they have envisioned, and not miss any of the fun cocktail hour either! After their romantic portraits are done, they meet up with their bridal party because they still have plenty of time to spare. The bride can touch up her makeup if needed and the guys get to have a little more fun. After a few minutes the bridal party portraits begin and they are all able to have fun because they aren't on a time crunch, and you don't have to miss cocktail hour yourselves! (I know I mentioned that before but it's such a great perk to First Looks…you get to party sooner!) An additional benefit to having a First Look is that you will get 30-40% MORE portraits of the two of you on your wedding day. Those are the photos that will mean the most to you and will be what you decorate your home with. Wedding Day Photography is a significant investment and with a First Look, you make the most out of this huge investment and will get all of the photos you dreamed of.
I introduced the idea of a First Look to Brandon and Colleen, the couple whose wedding I photographed before Christmas, during their initial consultation. Since they were getting married in December, sunset was going to be really early, around 5:30pm. And their ceremony was set for 5pm. Which means all of their special bride and groom portraits would be done at night. They wouldn't have any portraits of them as a couple with pretty natural light. Colleen and Brandon didn't love the idea of all their portraits having to be set up in some way with artificial lighting. And I didn't blame them one bit. So since their timeline of events for the day was not set in stone and they were up for suggestions on how to best plan their day, I suggested we do a First Look. Neither of them had ever heard of doing a First Look before the wedding, but when I explained it to them they thought it sounded great and were up to try it. It worked out PERFECTLY for the couple the day of their wedding and they could not be any happier with how their experience and their photographs and video turned out! There was so much emotion during their First Look, we ALL shed some tears. I mean it with all my heart when I say I will NEVER forget the exact moment when Brandon turned around and saw Colleen, how he was sincerely speechless and overcome with emotion. This was their moment, and since they didn't need to share it with hundreds of people watching them, they felt comfortable expressing every emotion they were feeling. I know for a fact they will never forget this moment either.

We were able to stage Colleen and Brandon's First Look a couple hours before the ceremony was to start, and when we were done we had plenty of time to take all of their Wedding Portraits around the property. Brandon arranged to have a really cool vintage red truck available for their portraits and we got some great shots with all of the hustle and bustle of a Saturday afternoon in town as our backdrop. We were able to take our time and everybody was relaxed and had a lot of fun. When we were done with the Wedding Portraits and photos with the bridal party, the girls went to one room to refresh their makeup and touch up their hair, and the guys went to another room to hang out (and drink a couple more beers I'm sure.) Then after the ceremony was over, everybody was able to join the other guests immediately for cocktail hour and nobody was ever rushed. IT WAS PERFECT.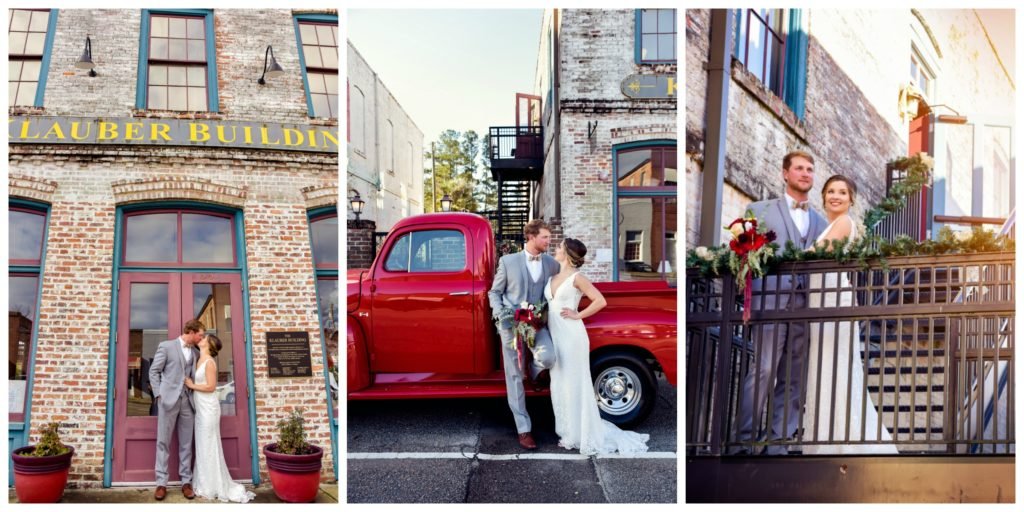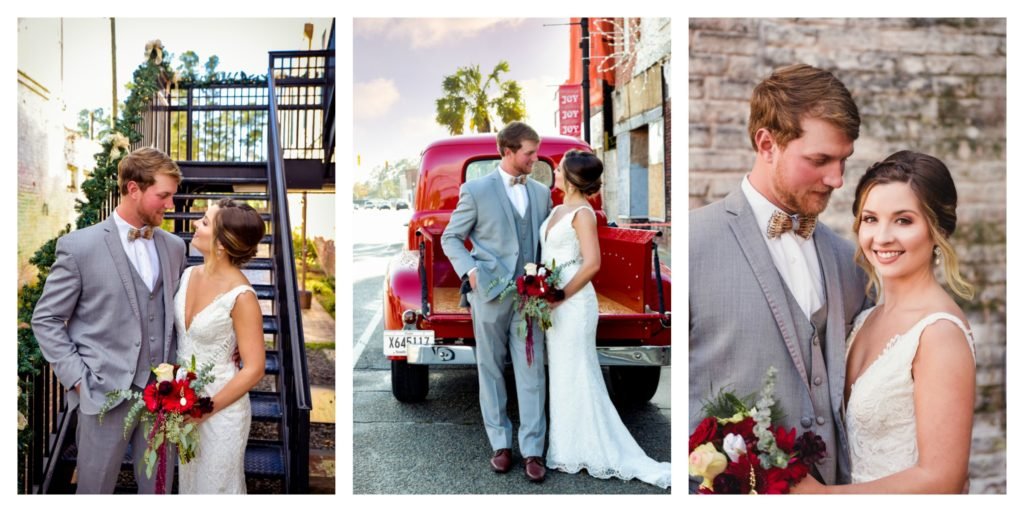 Now with saying all of that, every client is different and every wedding is different. While a First Look may be perfect for one couple, it might not fit another couple's vision for their big day and that is perfectly OKAY. My goal is to give you the exact experience you have always dreamed of…and even better than your dreams if I can!
To see more of Colleen and Brandon's First Look, check out their custom Wedding Day Video, filmed and produced by Southern Tide Photography, here: https://www.youtube.com/watch?v=a_OpWssbFcw&t=1s
Love it? Then 'Like' us on Facebook & never miss a thing!
Any other questions? Just give us a call or send us an email and we will be happy to answer any questions you may have!