FLORIDA BEACH WEDDINGS + HOW TO GUIDE FROM A LOCAL WEDDING PHOTOGRAPHER
SOUTH FLORIDA WEDDING PHOTOGRAPHY
SOUTHERN TIDE PHOTOGRAPHY
So you're thinking about having a Florida beach wedding?! That's exciting! A nice, romantic, and intimate ceremony with beautiful sunset photos to follow? LOVE it! Sounds simple enough right? Hahahha WRONG.
Having a beach wedding in Florida is a very popular idea among couples planning their wedding and can be just perfect. We have shot a lot of Florida beach weddings and have some of the most beautiful photos and videos from these weddings. But I can for certainty that  planning and pulling off a beach wedding is never as easy and straightforward as most couples expect it to be.
So let me share my years of experience and wisdom (a big LOL at the wisdom part) with you, and give you some tips and things to consider if you are planning a beach wedding or trying to decide if a Florida beach wedding is the right idea for your big day! But first, a pretty pic to keep your attention!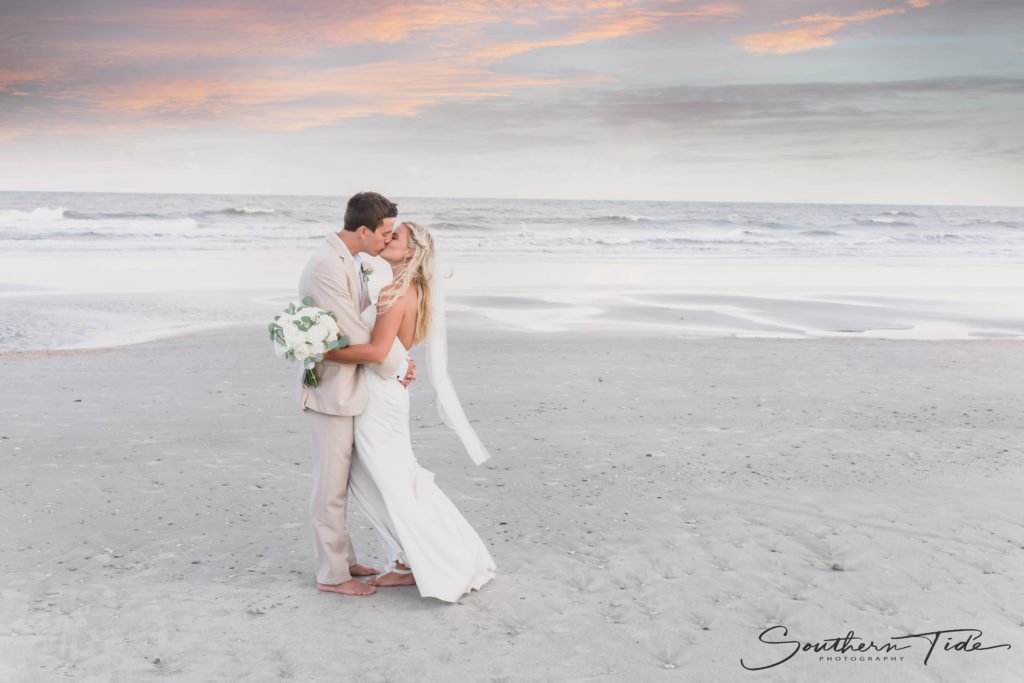 There are lots of things to consider before setting your sights on the ocean, from permits to personal beliefs about sand (yes, that's a real thing). There are a number of things to check on, plan for, and time correctly. To help with all of the details and logistics that are behind a beach wedding, I would consider one or both of the following if your budget and/or vision permits:
Hire a coordinator who does beach weddings. There are coordinators who actually specialize in beach weddings and they offer specific packages just for beach weddings.  Getting married on the beach is just like a regular wedding, but with a ton of unexpected things you probably never considered. So if it's within your budget, I recommend working with someone who is experienced in planning a beach wedding in Florida. They'll know their way around the local ordinances and get any permits you may need, take care of organizing all your vendors and their unique needs that may arise because of the beach venue, and they can act as your wedding bouncer if friendly passersby try to walk through your ceremony photos.
Get married at a beach resort: You know who does those private picturesque beach weddings really well? Destination beach resorts. And there are often a bunch of perks that come with it when you book one. Understandably leaving the country may be out of budget for you and your guests, but there are plenty of beach resorts here in the United States that offer a similar level of inclusion, with cheaper airfare costs (think: Florida). Beach resorts that offer beach weddings will most likely provide a wedding coordinator that will assist in the planning and execution or your wedding. It will be included in the package you purchase at the resort to have your wedding on their beach.
Now if either of the above suggestions will not work for you, here is a list of things to consider when you ae planning your own Florida beach wedding.
1. Public or private beach wedding
Most beaches in FL are open to the public. There are some though that belong to private residents or even some resorts have their own private beaches. So if getting married on a private beach to avoid bystanders and regular beach traffic, then you will need to get started early looking for a private beach with availability for your wedding. Having your wedding ceremony on a public beach is just going to be a lot more practical for most couples. Yeah, you may have some beach-goers  who walk by during your ceremony or some kids yelling in the background. You can't control that, so if that is something that might irk you then you should start your search for a private beach. But really, we have photographed so many beach wedding on public beaches and we rarely saw moments that the other people on the beach really interfered with the ceremony. And the small amount of times that it did happen, it was actually kinda funny and gave everybody a good laugh.

2.  Ceremony on the Beach? Maybe the Reception too?
A wedding ceremony in the beach is usually what you think about when hearing the phrase "beach wedding".  Not often do you see a reception being held on the beach, but it definitely has been done and is possible.  Permits and county/city ordinances vary depending on what kind event you'll be having, whether food and drink, specifically alcohol, are involved, and if you're requesting to block off a particular part of the beach. I will be honest and say I think a reception on the beach s just too hard. Even if you have the best case scenario and have a private beach to work with. You still will have the issue of sand, cause sand a food just do not mix, bringing enough electricity to the beach, having to lug all the rentals and food somehow down to the sand, etc. It's just not the easiest reception venue  So I would defintely recommend having the ceremony and portraits to follow on the beach, and then move the party somewhere that is better equipped to handle a large party. And you don't have to travel far! There are so many waterfront restaurants, beach resort ballrooms, and even beach houses that are beautiful spots for nearby receptions. And the great thing about a beach house is that you can get ready for the wedding there beforehand and then pass out tipsy there when it's all over! Win-win!

3. Permits and Ordinances
This is my least favorite topic ever. Ugh, so boring. But it is a must thing to consider and research when planning your own Florida beach wedding. Beach rules vary by state, county, and city. The best way to check to see if you need a permit and what are the rdinances to consider is a good old fashioned phone call. Call the local city office. Just by picking up the phone and speaking with somebody at the local government office can save you so much time and stress, and will ensure you are getting the right information. The internet on this topic is not always the most reliable source. There will be people telling you what they did, think, believe, suggest, etc. and unfortuntely none of those people are experts. Save some time and go straight to the source.   Check with the local government to see what regulations they have regarding events and gatherings. Some things they may ask you are:
How many guests are you going to have? Some beaches have regulations about the number of people at one gatherings. Don't be shocked if the beach you want to get married on has this restriction, it is somewhat common.
Do you want a more private ? While there here be options for roping off a section of the beach for the ceremony, this is not guaranteed and is something the local government office should be able to assist you on.
Will there be alcohol outside? If they ask you this, I would immediately say no. Many beaches prohibit alcohol on the beach, and even f they don't, they may restrict your permit if they know a large number of people will be drinking together at the event.
4. Is Your Beach Wedding Accessible?

One of the reasons a beach wedding is so intriguing is because it can be so beautiful while being so simple? You don't need a fancy aisle because the sand is beautiful enough! You don't need to rent a bunch of chairs because the ceremony will be quick and simple so everybody an just stand and enjoy their toes in the sand. But what is Aunt Martha can't stand very long? Are you going to have an option for her so she can sit? What if Grandpa is in a wheelchair these days, is he going to be able to get down to the ceremony site in the sand?  The beach can add an element of challenges that other venues don't, so just make sure to consider your guest list and figure out if any additional accommodations will need to be made.
5. Weather

So what's your Plan B if it rains? Just with all other outdoor venues, you need to consider where you will have the wedding if it ends up raining. But at a beach, you can't just put up a tent or run inside if the skies were to open up. So plan for the worst, hope for the best, and you will save yourself so much stress and running around the last minute if the weather forecast doesn't look great. Also, consider when rainy season is. The best way to try to avoid rain is to book your wedding when it is not typically rainy. So in Florida, try to avoid the summer months for your Florida beach wedding because that is when we get the most rain. Which is actually a good thing because the summer months are so hot, who wants to get married in 100 degree weather?!Also, if you can, try to avoid hurricane season! I know that's hard because hurricane season is pretty long, but if you have the option to avoid it then you should avoid it!
6.  High Tide
You have got to check those tide charts! In Florida and every other beach on the world, the exact time for high tide is different every day so you must find out what that time will be on your wedding day and plan around it!  You have got to make sure your ceremony start time won't coincide with high tide or you very well may not have a beach to stand on.
5. Sound
The beach s noisy. Waves, wind, birds, people…it's loud.  Beaches aren't usually equipped with power outlets so you may need to get creative so your guests can hear you. An experienced DJ should be able to assist with this, but make sure you discuss with them how it will be done and if they are experienced with beach weddings themselves.
6. The Sun
Oh the sun. A wedding photographer's arch nemesis. In all seriousness, when planning your beach wedding you really need to consider what time the ceremony is going to start and where that darn sun will be during that time. Unless you are getting married near a pier, the beach rarely offers any type of shade for a ceremony. So you have to know where that sun will be and possibly adjust the ceremony time to account for it. You don't want the sun to be too high. That is the most unflattering and harsh light. Sunset offers beautiful light but if it's down too far it may be in your guests' eyes or in yours. Also, you want to make sure you leave enough time to take all your family portraits, bridal party photos,  and those beautiful bride groom portraits and following the ceremony!  Your photographer should be able to assist is this so use their expertise to set the time of your ceremony and you should be in good shape.
If you have any questions regarding your Florida Beach Wedding or just want to chat to discuss your options, we are happy to help in any way we can! Just CONTACT US here and we will discuss your vision and questions in more detail!